Lighting
Material :
Shade and table in aluminum. cylinder in glass.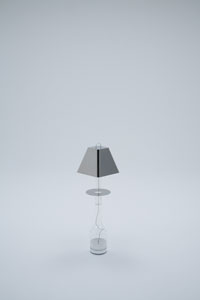 photo: Takumi Ota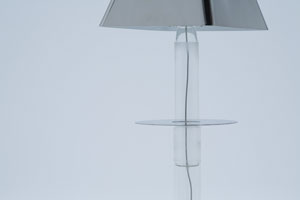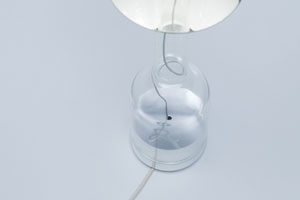 The concept of jointing, succeeding, and inheriting
Two new proposals from MILE
New models from MILE (Bandai Matsuo, Kentaro Kai, Kozo Shimoyama) were unveiled just recently. The new models that clearly demonstrate further development from their proposals at Milan International Furniture Fair in the spring of 2008 are called "graft" and "dusk." graft, as its name suggests, is a chair with a bold composition of jointing wood and silicone rubber at its arms and backrest. It is characterized by the smooth continuity of the differing materials. According to MILE, "We thought of enhancing the presence of a single living thing, just as in a grafted or transplanted tree. We were interested in the contact points of jointing, succeeding, and inheriting, and also the relationships among things that are joined at those contact points. In Japanese there is a word?fushime?that means transition or joint, and we think it is called so because it's not terminated there but it exists within the continuity."
The other model, dusk, is a light stand composed of a glass cylinder stand and a mirror-finished shade. As it is designed so that the shade lowers gradually due to air pressure, dusk reaches its lowest position in about two hours. They took note of human relationships that change through time and attempted to express them by changing the expression of the light that illuminates such situations.
They both models started form the concept of continuity, and while the approach of delving deeply into the relationships themselves is pursued in both cases, they came up with designs distinctive of MILE, that also project a sense of humor.
Noriko Kawakami, journalist / AXIS magazine vol.137