Screen / Exhibited at New Wind from Japan 2009, Milan
Graphic work: Yuma Harada
The product detail uses work by Sotatsu Tawaraya from the 17th century,
Korin Ogata from the 18th century and Hoichi Sakai from the 19th century…
The theme " F?jin and Raijin" has been reproduced by legendary Japanese
painters over the last 400 years. In 21st century, what we choose for ones
in 22nd century? Something between contrasting ideas… Well, we shall leave
it veiled at this moment for our posterity.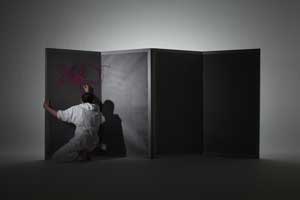 photo: Takumi Ota